Thailand's View Georgiou Begins European Tour
Thailand's View Georgiou Begins European Tour
Up-and-coming pro learns lessons at Tyyni
Friday, July 5, 2019 - 05:00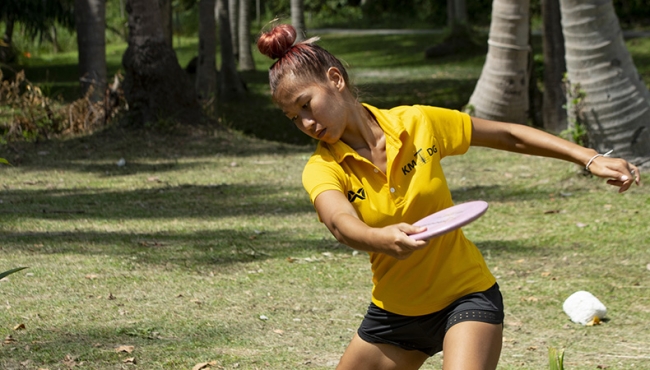 Not long after word began to reach the disc golf world of a new scene breaking out in Thailand, so began the rumors of a Thai woman called View. Those returning from one of the Swine Classic events on the island of Koh Samui spoke of a dynamite local who had great power and who was regularly beating the guys. Newly sponsored by Prodigy Disc, and having made some life changes with her husband Nick Georgiou that will facilitate a touring lifestyle, View Georgiou began the competitive part of her first European Tour last week at the Tyyni tournament in Finland.
Introduced to the game by husband Nick, a British expatriate, four years ago, View Georgiou took to this new sport like a natural. To her advantage was a childhood of playing sports like badminton, followed by a brief career as a Muay Thai fighter (where she had three bouts, with two wins and one draw). Watch a Muay Thai fighter train or compete and you'll witness the tremendous rotational energy they can produce, so it's no surprise that View can generate power with an easy-looking, smooth and balanced technique. She's also brought across a healthy dose of aggression with her from the fight game, which she's worked to control on the disc golf course.
Despite not yet having the international results to match her local ones, View has gathered a lot of attention: for her style, the way she plays, and the simple point of difference that she is an Asian woman in a sport with a demographic that is anything but. Those watching the developments of the game in the region tend to see players like View and Malaysia's Hareesa Shahaini as symbolic leaders of a movement that just might be huge.
Born Phattharachari Khamsriphon, the name "View" was given her as part of the long-standing Thai tradition to have a second name that dates back to the 12th century; not, as some might assume, part of a modern trend of people from Asia taking on an anglicized name to ease communication with western tourists. Despite living and playing in what has become the Thai disc golf hotspot of Koh Samui, View and Nick decided to move north to her home village of Udon Thani near the Thai/Laos border in February this year. The mother of two explained that the move was to be closer to her family support network so that she will be able to tour more.
Two weeks into her first European tour, View has had some adjustments to make.
"All of her discs fly differently here," Nick said. "She was just turning everything over in the colder and drier air. Thankfully Seppo Paju took her to the Prodigy warehouse and let her stock up with some more over stable plastic.
"Otherwise," Nick continued, "she's had to adjust to playing in layered clothing to cope with the cooler weather. Plus, we've learned to shop in the children's section of the clothing stores, as she's about the size of a 12-year-old here."
Her first hit-out at Tyyni wasn't the start she was hoping for, as she threw well below her 930 rating and finished 15th. To cap off the rough weekend, she shot an octuple-bogey 11 on the final hole.
"The 8:30 start and the cold got me," View admitted. "I can't feel the disc in my hand in the cold weather, but if I use the hand-warmer too much it makes my hand sweat, which is also a problem. I'll have to do almost everything differently next time."
She'll have plenty of chances to put some of this vital experience into practice in the coming weeks. View is following up the event with the Wildcard Open in Tampere, Finland, the Hameenlinna Open, the European Open, then the Alutugase Open in Estonia before flying home.