Players Outlast Weather Delays To Shoot Double Digits Under Par
Players Outlast Weather Delays To Shoot Double Digits Under Par
Discraft's Great Lakes Open Day One Recaps
Saturday, July 6, 2019 - 11:03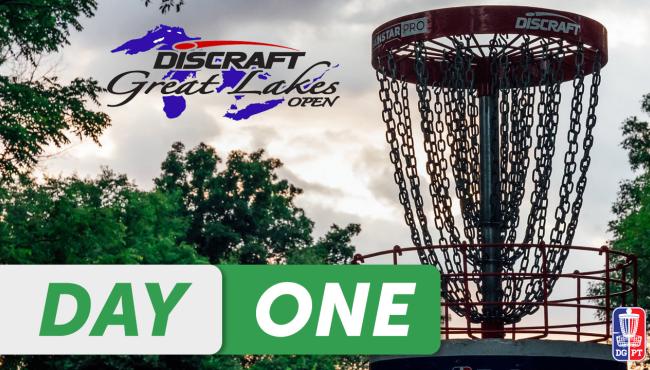 ​After nearly 12 hours since the first tee time of day one of the Discraft Great Lakes Open all cards from the MPO division are in the clubhouse. The hot rounds of the day came from across multiple tee times and a variety of styles of players. Outside of the competition, lightning was the name of the game today. At 2:57, lightning struck within seven miles of the course as part of a pop-up shower and so play was delayed for thirty minutes. With a restart of 3:27 play was able to resume for an hour before another delay held up play for an hour as a second storm blew north of the course. Worth noting, the course did not see a drop of rain during the delays. However, safety is key, and players were able to seek shelter until it was safe to play again.
Young Gun Anthony Barela came into the clubhouse soon after the first thirty-minute weather delay. He only had two holes to finish after the delay. After taking a par on 17 he was able to land a birdie on 18 to move to -11. He carded a 100% Scramble and C1x putting percentage for the day. Anthony was also 67% from C2 which put him in the top five in C2 putting today. He will be looking to maintain the double-digits under par tomorrow as he makes his way onto the lead card with today's performance.
Read the full story on DGPT.com »
Under Par is the Bar - FPO Round One Recap
Round One is in the books for the FPO division at Discraft's Great Lakes Open, and the scores were just as hot as the weather at the Toboggan course. After round one under par was where you wanted to be as only the players on tomorrow's lead card finished under par for the day. With an early tee time, Paige Pierce was able to set the pace early. 
After the round, Paige confided that she played the course blind. She said she had played the course five or six years ago, but with the changes, it was definitely different. Paige started the day -4 through four and was able to hold those four birdies in her back pocket throughout the round and finish -4 on the day. Paige credited her success to being able to watch coverage from last year to help prepare for the event.