Pierce Leads FPO, Tight Races Throughout at USWDGC
Pierce Leads FPO, Tight Races Throughout at USWDGC
United States Women's Disc Golf Championships Day 1 Recap
Saturday, May 22, 2021 - 02:05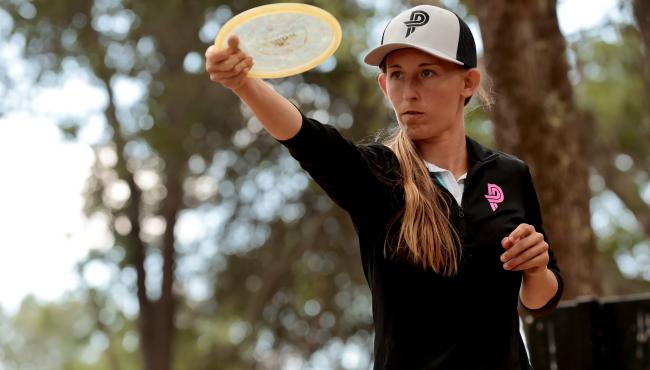 NORTH CALIFORNIA — Kelley Snyder and her card mates shared a big laugh as their names were being announced prior to teeing off on Friday at Johnson Springview Park in Rocklin.
But just after that light-hearted moment, the game face was on.
That was the scene throughout the area on Friday as 263 players throughout 17 divisions and three courses kicked off the 2021 United States Women's Disc Golf Championships, the first PDGA Pro Major of the year.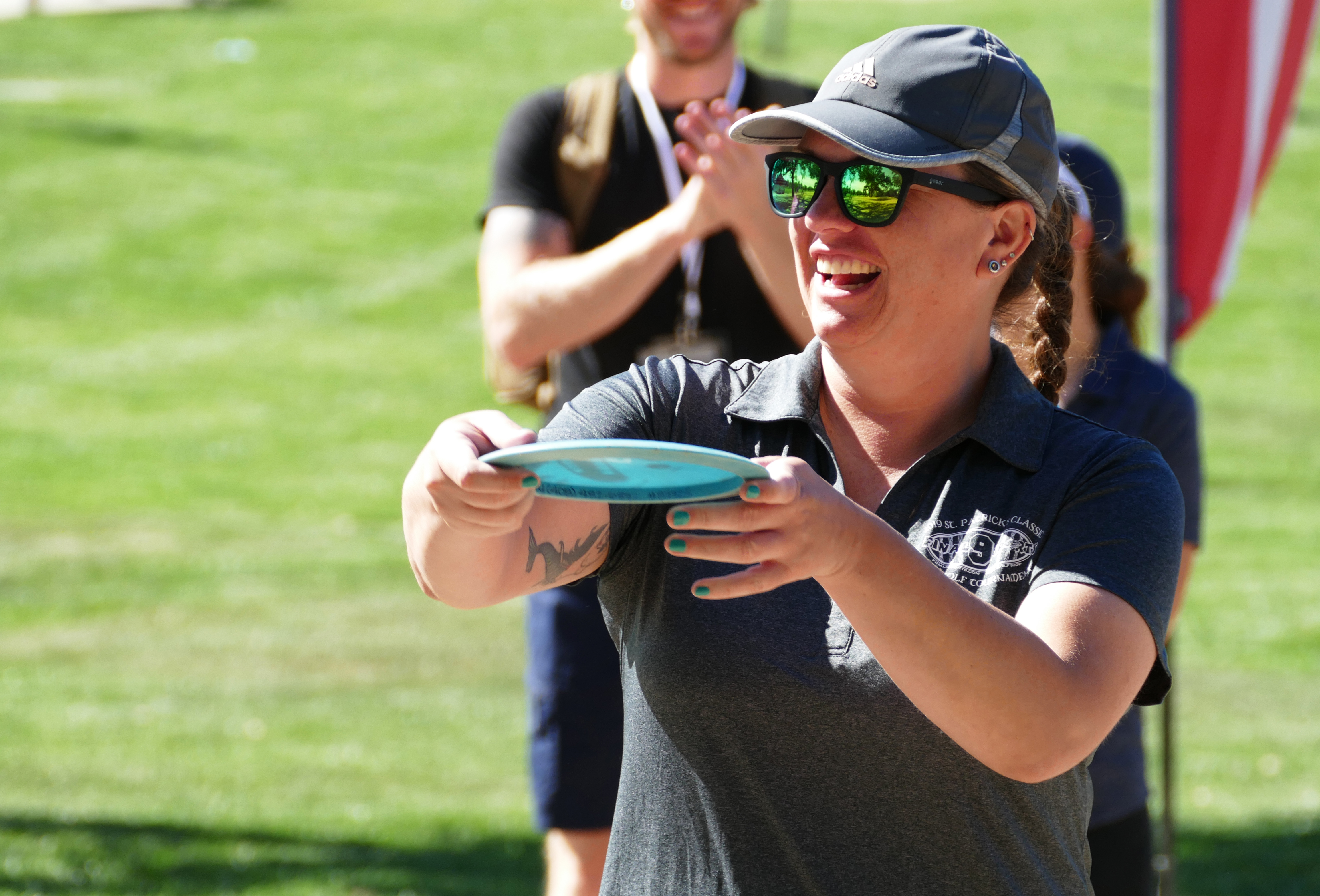 "Women's tournaments are always going to be the most fun you can have at an event, there's no doubt about that," Madison Walker said. "We are all being competitive and still have our heads in the game, but that's a lot easier when you're having a good time."
There are quite a few tight races in several divisions of the USWDGC heading into moving day on Saturday as the pools shift courses.
Paige Pierce played the cleanest at the Auburn track, carding seven birdies after an early bogey to open a four-shot lead in the Open Women's division. Fellow five-time PDGA World Champion Juliana Korver finished strong with a pair of birdies to grab a one-shot lead over three players in the FP40 field.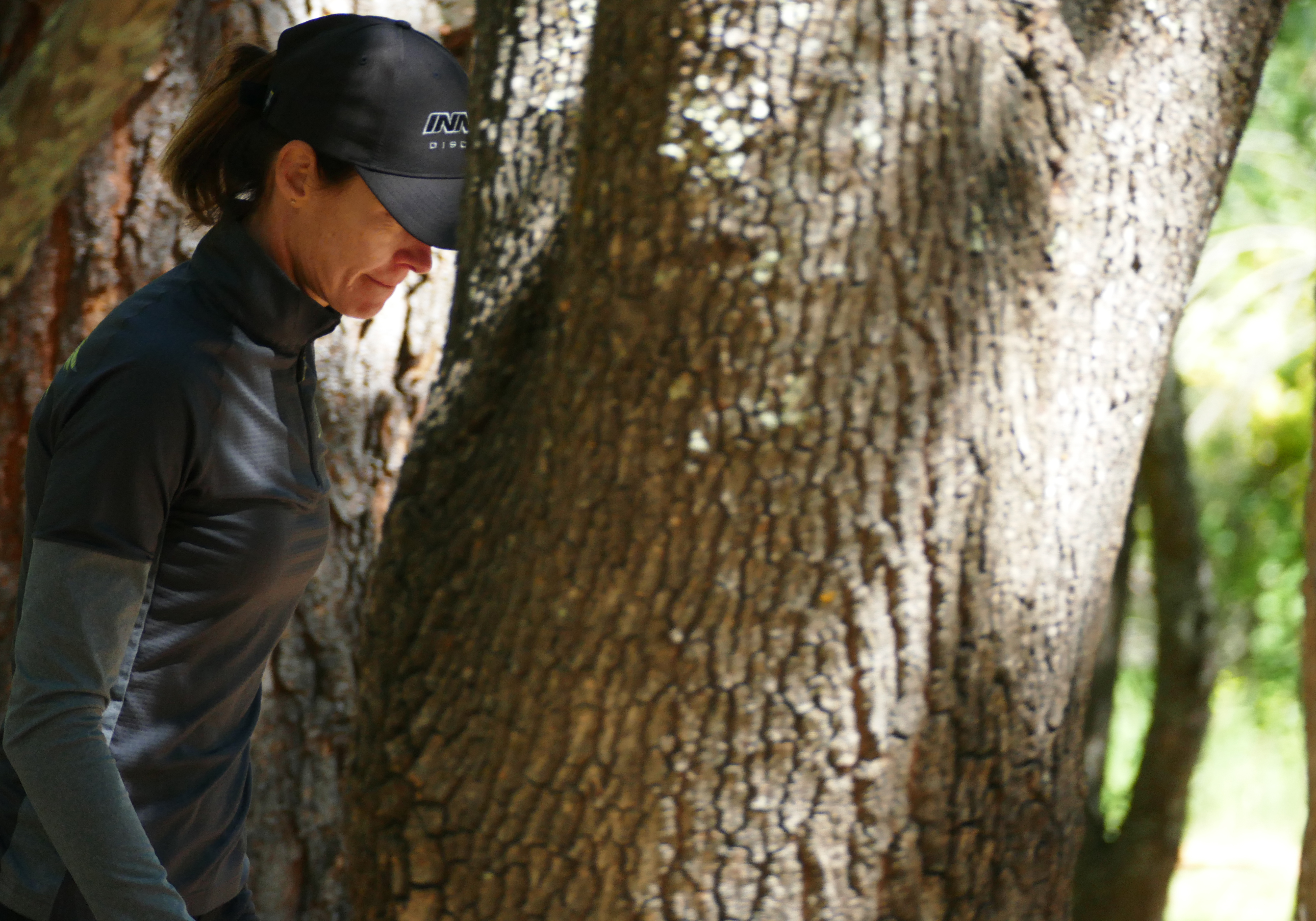 Nancy Shillinger leads FP50 by four strokes; Disc Golf Hall of Famer Andi Young leads by five strokes in FP60 and Laurie Cloyes-Chupa has a sizeable lead in FP65.
In the Advanced division, it'll be a Texas showdown between Melody Castruita and Aria Castruita, who matched with 58s at Rocklin DGC for a two-shot lead. Serenity Madison leads FA40 by four strokes. Rhonda Parkhurst (FA50) and Sue Perales (FA55) both built big leads on Friday, as did Patti Adams of Chapel Hill, North Carolina, in FA70. New York's Marcia Focht leads FA60 by a single shot.
The tightest race is in the Intermediate field as Stephania Ma of San Francisco leads by a single stroke with eight players within three strokes.
Erin Halk (FA3), Gabi Sigafoo (FA4), Atlanta Krueger (FJ18) and Darlo Razoto (FJ15) all have leads. The FJ12 flight is tied up between Jordan Linn and Therese Cuevas.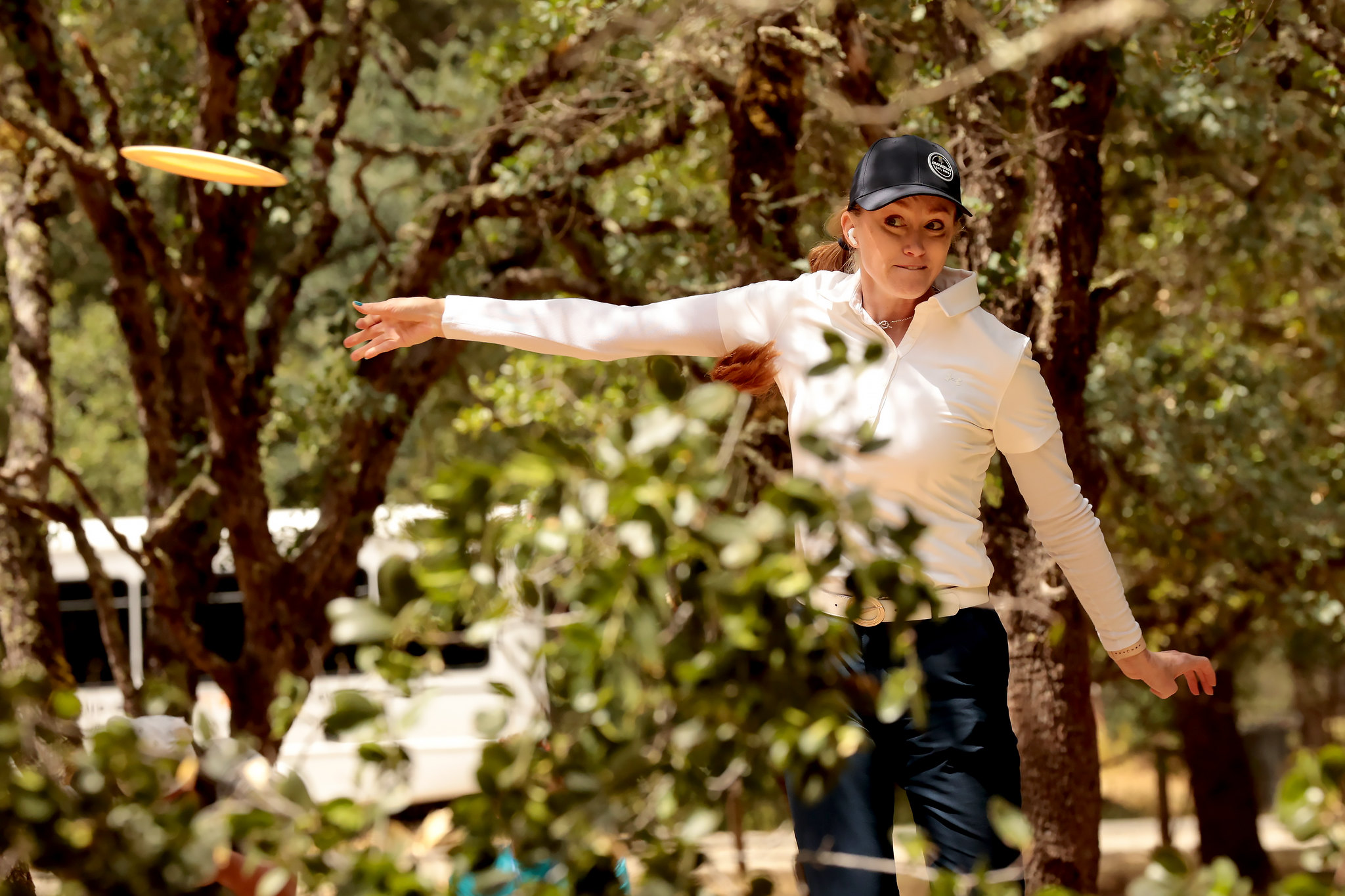 Pierce Jumps Out To 4-Shot Lead
Teeing off early, Kona Panis set the early pace in the FPO division with a 2-under 54 at Auburn Regional Park but thought that the score wouldn't keep her in the lead.
She wasn't completely wrong.
"I'm happy about it but I do think I could have gotten three or four more holes," Panis said on the green of 18 as the feature card teed off on hole 1 behind her. "Just watching the ladies tee off, I think we're going to see some better scores than that. Hopefully I played well enough to get on chase or third card."
Turns out, there was only one score better than that 54.
Pierce overcame an early-round bogey, stayed clean of OB and connected on 100% of her C1X putts en route to a 6-under 50 to build a four-stroke lead over Panis, Walker, Holly Finley and Hailey King.
The Auburn track has been described the most technical of the three courses on tap during the tournament.
"This is the course with the most trees on it and the most technical so I was assuming this was going to be my worst round. So to come out and be four strokes on top after this round, I feel very happy and I feel like I can coast from here if I just play my game," Pierce said. "I minimized the damage on a few holes. I thought I was going to get a couple of bogies with certain fairways having a lot of trees and I'm happy to get out of here with just one."
Pierce took a deep breath after a tester putt on the first hole, let out a fist pump after bending a straddle putt for birdie on three, and drained another from an awkward stance on seven.
"The putt felt pretty good. There were definitely some moments where I had tester putts, some were to save par to I was happy to get those to stick," she said. "I want to be a little more direct tomorrow."
Panis bounced back after a two-over start through five holes. Same with Finley, who was even after five. Walker got under par on 11 and King, who will lead the chase card, was three-under before a bogey on 14.
"I was putting well and I'm feeling good about my putts outside of the circle – I made more of than I usually do," said Walker, who hit three C2 putts, including a 49-foot birdie on hole 4. "I had a rough start, but I was able to dial in and I feel pretty good about it."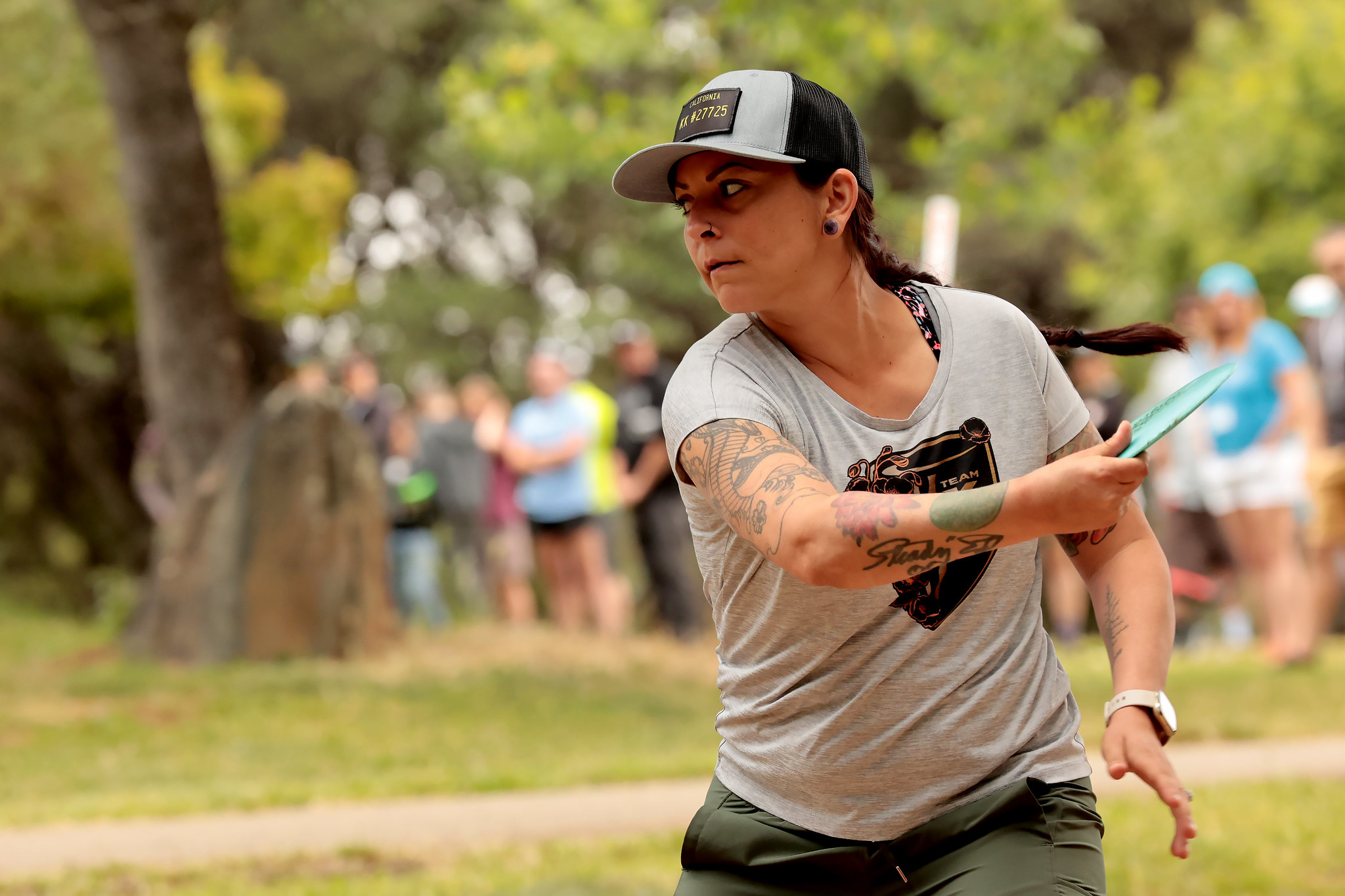 Kristine King, of Chino, California, birdied 17 and 18 to earn a spot on the chase card. Lisa Fajkus and Taylor Foth, of Sequim, Washington, round out the second card.
"We had a great vibe on our card; we were friendly and competitive. When it was time to throw, we were focusing in," Pierce said. "We were hanging out and talking on the teepad. That's the spirit of the women's events: community, getting together with people that you don't usually get to see. I was happy to play with KK, it's been quite a few years.
"Just looking around and seeing women at every teepad is a special feeling."
Action shifts to Shady Oaks DGC in Orangevale on Saturday. Live coverage of the USWDGC kicks off at 1 p.m. PT on the Disc Golf Network.