McMahon Rebounds From Shoulder Injury for Tyyni Win
McMahon Rebounds From Shoulder Injury for Tyyni Win
Oakley takes home second place
Tuesday, July 2, 2019 - 00:00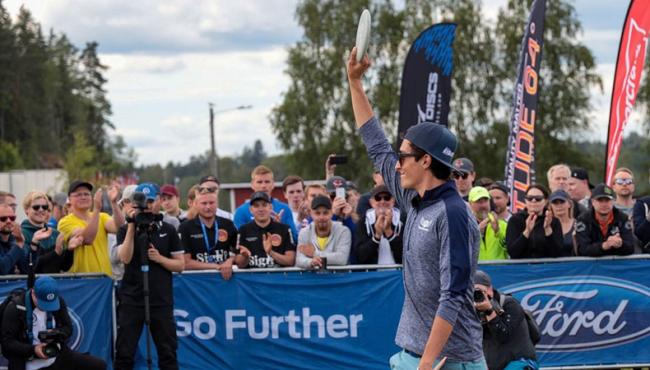 Going into the final round of an A-tier with just a one-stroke lead over three players and another five players lurking two behind would make most leaders edgy, to say the least. But whether it was the festive atmosphere of Europe's largest-ever event (second-largest in the world this year with 958 registered players), his vacation mindset pre-European Open, or a mixture of both, nerves weren't a factor for Eagle McMahon during the final round of the Tyyni.
"I didn't feel too much pressure," McMahon said. "There was a thickness in the air that you don't get during standard rounds, but throughout the round it felt like it was just a lot of fun."
The relaxed attitude paid off for McMahon, whose 10-under par, 1054-rated final round was his strongest of the weekend and gave him a comfortable three-stroke win at the three-round tournament near Helsinki, Finland. McMahon finished with a 25-under par 155 total, while Eric Oakley's 22-under par 158 earned him second place. Seventeen-year-old Finn Niklas Anttila matched McMahon's 10-under par final to jump from the fourth card and into third place with a 54-hole tally of 21-under par 159. 
Notably, internationally-known players Simon Lizotte and Seppo Paju were also in the field, but didn't fare quite as well as their stateside counterparts. Lizotte plummeted from the final round lead card to a 21st-place finish, and Paju slumped to an unexpected 40th-place showing despite being the third-highest rated player at the competition.
McMahon On The Winning Moment, Shoulder Matters, And Things To Come
Just because McMahon wasn't feeling very nervous didn't mean he wasn't concerned about winning. On hole 14, a par 4 which he said "you want to birdie," McMahon was leading but took a par while the rest of the lead card birdied. That left just a one-stroke gap between himself and Oakley.
"I just kind of looked at the leaderboard and realized, 'Oh wow, there aren't many holes left now,'" McMahon said. "I figured I had to get in gear and into that final-round mindset."
McMahon took back the lost stroke on the next hole, but he said the "critical moment" happened on 17, a par 4 with a steep drop-off behind the basket.
"Eric [Oakley] throws his upshot, goes a little long but in circle 1 putting up at the basket," McMahon recalled. "I thought I'd parked my upshot, but I was about the same distance as Eric. It was 25 feet [7.5 meters] uphill with a little wind in front of the gallery. I was thinking, 'Oh man, this putt is a little longer than I want it to be right now.' But Eric was a little further out, went first, and hit front cage, and I made my putt. That's when I knew I had a pretty good chance of wrapping it up."
While McMahon taking the win in Tyyni isn't a huge surprise, many likely have questions about the victory coming just one weekend after he dropped out of the Ledgestone Insurance Open citing shoulder pain. McMahon said that following the advice of Seth Munsey of disc golf fitness organization Disc Golf Strong helped him recover quickly. He was mindful of keeping his volume of throws to a minimum, stretching every morning, and fully warming up his entire body before playing.
"Also, the thing about this event is that I never threw a shot over 75% power; that was a thing I was focused on," McMahon said. "If there was a shot I could reach, but it was a bad idea, I was very mindful and picked my battles wisely. The good news is that I can't remember any throw during the tournament or practice where it hurt. It actually felt pretty solid. There's maybe a tense feeling when I throw a forehand or a backhand with a little bit more power, but there was never a time I thought I did anything wrong."
McMahon's next event is the Estonian Open from July 11-13, another A-tier that's also part of the PDGA EuroTour. Though the registration list for that tournament also includes Ricky Wysocki, Kevin Jones, James Conrad, and Jeremy Koling, McMahon still sees the main goal of his trip to Estonia as enjoying himself.
"That event is more or less vacation – there just happens to be a disc golf tournament there," McMahon admitted. "I'm really just focused on enjoying my time here and rehabbing my shoulder, and then there's the European Open; a small tournament in Colorado; and after that the World Championships. I'm pretty much just getting myself ready and in shape for the most important part of the year."
Second Gave Oakley "A Super Special Feeling"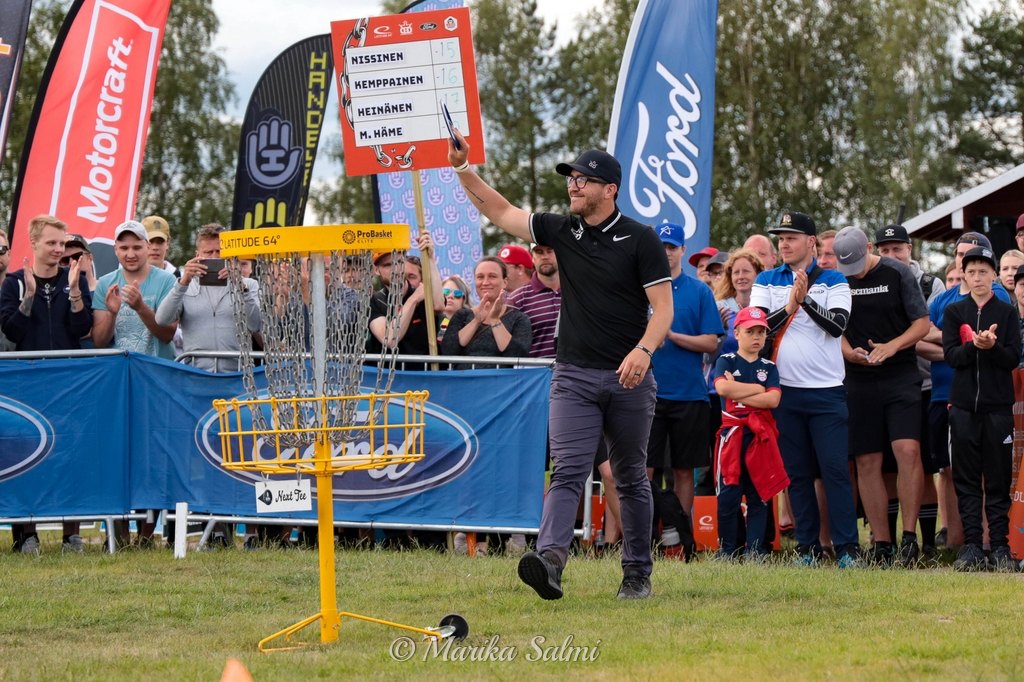 Before Tyyni, Oakley had never played an event outside the United States, and the high level of interest in the event from the Finnish crowds wowed him.
"The Finnish people are unbelievable when it comes to supporting disc golf," Oakley said. "There was a huge gallery every single day."
Unlike McMahon, Oakley said that the large number of eyes on him added some pressure to his rounds. However, they also had their benefits.
"It had a very similar feel to the Glass Blown Open, and I definitely felt the nerves early on," Oakley said. "But with the amount of positive energy that the crowd gave off, it was easy to settle down and play my best."
For the now 1014-rated Oakley, such a high finish at an A-tier is a big achievement: The only time he's placed better at an A-tier or higher was in 2016, when he upset a number of familiar names—e.g., McMahon, Ulibarri, Keegan, Bell—as a 966-rated player to win the Fort Steilacoom Open.
Despite the chance at a career highlight, Oakley said he "honestly wasn't thinking much about the scores" until the very last hole of the tournament.
"I knew if the opportunity came, I would challenge for the lead. But with how good Eagle was playing, those moments were very few and far between," Oakley said. "On the walk to 18, I looked to find out where I was compared to the rest of the field and knew I could take a solid podium finish with a good score on 18. I got a great read off of Eagle's drive and my caddy Bruce Esquivel and was able to convert to claim solo second.
"It's a super special feeling," Oakley continued. "I have had some really positive finishes this year so far, so it just felt great to put a full tournament together and get a nice boost in confidence going forward."