Major Titles On The Line In USWDGC Finale
Major Titles On The Line In USWDGC Finale
United States Women's Disc Golf Championships Day 2 Recap
Sunday, May 23, 2021 - 02:19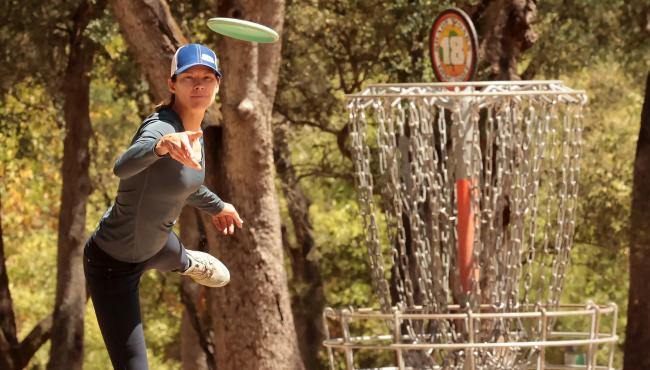 NORTH CALIFORNIA – Ten of the 17 divisions at the 2021 United States Women's Disc Golf Championships are separated by five strokes or less at the top of the leader board.
There's a PDGA Major title on the line on Championship Sunday.
"That's what happens at a Major championship – you see more experienced players come out," FPO leader Paige Pierce said. "They know moving day is important."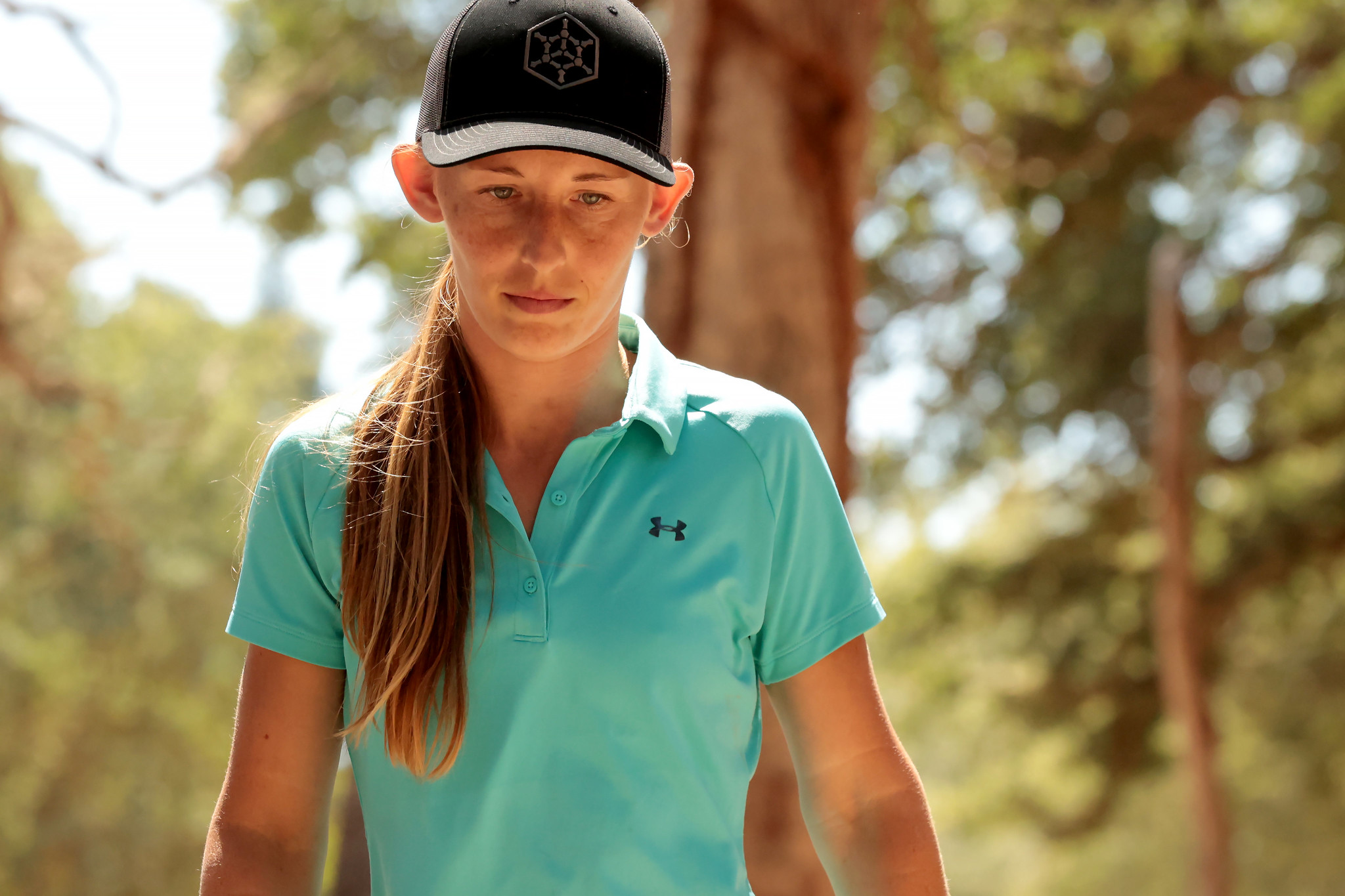 Pierce leads the FPO field by two strokes over Hailey King.
There were moves all over at the USWDGC as the 263-player field navigated their second of three courses this weekend. The action was intense, the battles continued, and Saturday's action set up what promises to be an exciting finish.
"It's been a joy," said Juliana Korver, who leads the FP40 division by a single stroke. "No one has ever played on a course with this many women before."
Korver and the lead card in FP40 were trading blows — and the lead — throughout Saturday's round at Shady Oaks Disc Golf Course. At one point, there was a three-way tie before Korver grabbed one of only two birdies in the field on hole 16 and then cashed a putt on 18 for the one-stroke lead.
"We all had our moments, and we were all battling really close today," said Korver, who is eyeing her eighth PDGA Major title. "It was a fun round, and I had some missed opportunities that I've got to clean up.
"It's funny because when I've done commentary, I've been 'well, of course they know where they are (on the lead board)' and now, I'm out there and I didn't know. I'm going to play my game and it doesn't matter. I'm not going to let someone make me do something out of my comfort zone. I didn't putt well in the middle of the round so it felt good to finish with that one."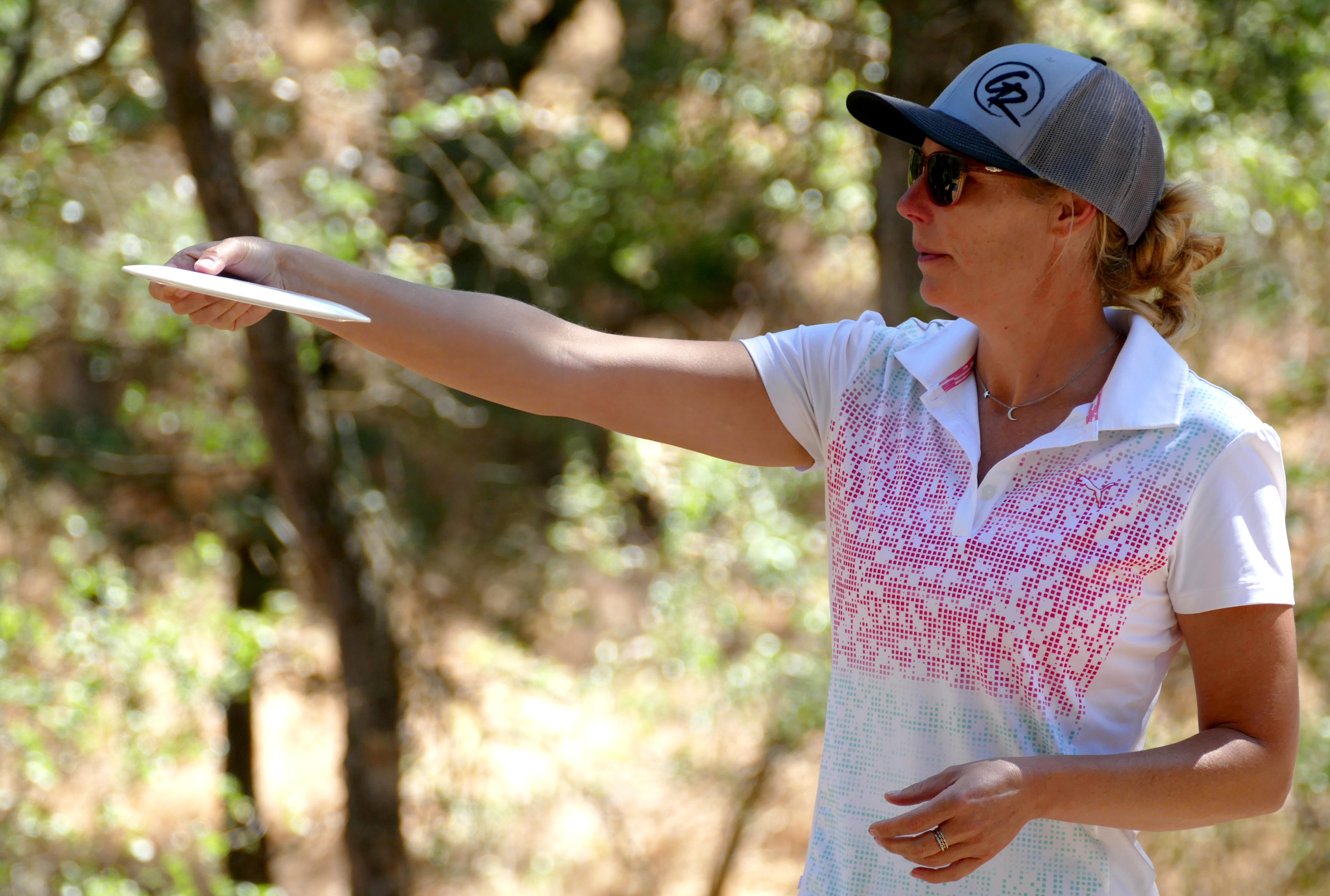 Korver leads Jenny Umstead by one stroke. Sally West, who had the hottest round in the field with a 55, is tied for third, two shots back, with Jennifer Allen and Jennifer Morgan.
Some other tightly contested battles heading into Sunday's finale include: FA1, where Melody Castruita leads by four over Danielle Kleidon; FA40, where Serenity Madison leads Kristi Lewis by five strokes — the same margin in FA50 where Rhonda Parkhurst leads Holly DeWit.
Ginger Bowman has a one-shot lead over Marcia Focht in FA60. Ronit Taggart leads Rachel Shanks and Stephanie Ma by two in FA2. Erin Halk fired the hot round of 67 to extend her lead to five over Amy Shaw in FA3.
The junior fields will come down to the wire as well. Atlanta Krueger leads Kenidee Walworth by three strokes in FJ18 and Jordan Linn has a two-stroke lead over Therese Cuevas in FJ12.
In FP50, Nancy Shillinger kept her lead. Andi Young cleared the rest of the field by four strokes on Saturday for a six-stroke lead in FP60. Laurie Cloyes-Chupa kept her lead in FP65.
Other leaders eyeing a Major win include Sue Perales (FA55); Patti Adams (FA70); Gabi Sigafoo (FA4) and Darlo Razoto (FJ15).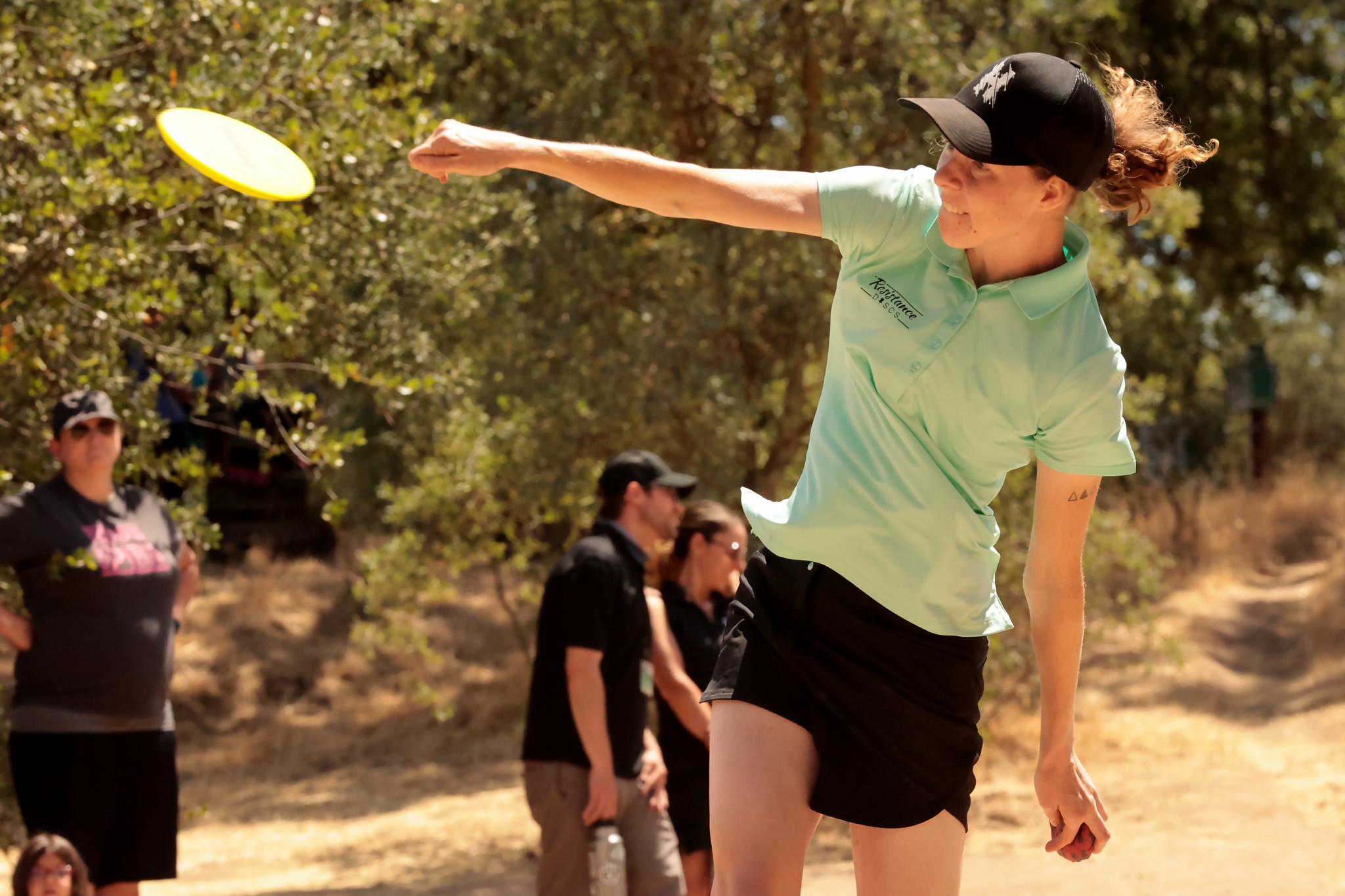 Showdown at the Top
It will likely be Major title No. 16 or No. 1 when the dust settles at the top of FPO on Sunday.
Paige Pierce kept the pedal to the metal to stay on top, but it was a blistering run from Hailey King on Saturday to make it a two-player race at the top.
King fired off a 10-under 45 – unofficially rated 1038 – to cut Pierce's lead in half as the two are clear of the rest of the field by eight strokes. King was solid off the tee with four parked shots and went 100% from C1X. A highlight came with a 60-foot putt on hole 7.
Pierce, meanwhile, kept her 100% putting mark from C1X intact through two rounds.
"I said I wanted to shoot an eight and that's exactly what I did," Pierce said. "I left a couple out there, but my putt felt so good. I was jamming them from circle's edge and everywhere inside. I felt like I was setting the tone. I had the teebox most of the round. I knew I was ahead and didn't have any over strokes, so I knew that was going to put me in a good spot."
Aside from Pierce, it will be a new lead card on Sunday.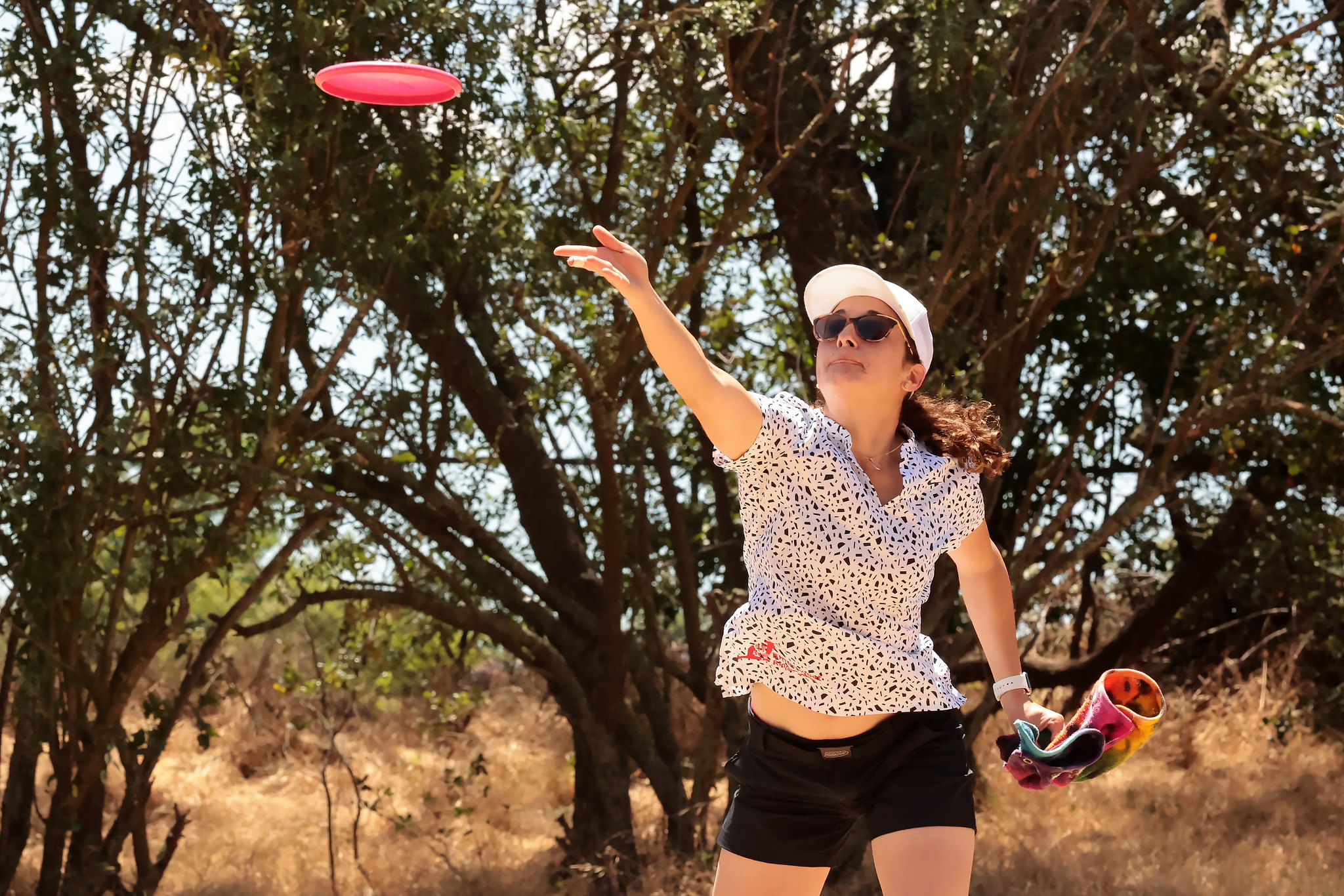 Catrina Allen and Jessica Weese jumped 10 and 12 spots, respectively, to round out the lead card. Allen sits at 4-under, eight behind King and Weese fired off a 49 to claim the final spot. The NorCal native is 3-under overall, tied with Missy Gannon, Ella Hansen, Kona Panis, Holly Finley and Madison Walker.
But this one will likely be decided at the top in a Pierce vs. King showdown.
"I'm absolutely ready. I've had two epic battles with Hailey King so far and I know there are many more to come," Pierce said. "I'm excited that the next one will be Sunday."
Live coverage of the final round of FPO kicks off at 1 p.m. PST on the Disc Golf Network.