Locastro Prevails For Gutsy Preserve Victory
Locastro Prevails For Gutsy Preserve Victory
Pierce continues dominance with second straight runaway win
Monday, July 6, 2020 - 12:28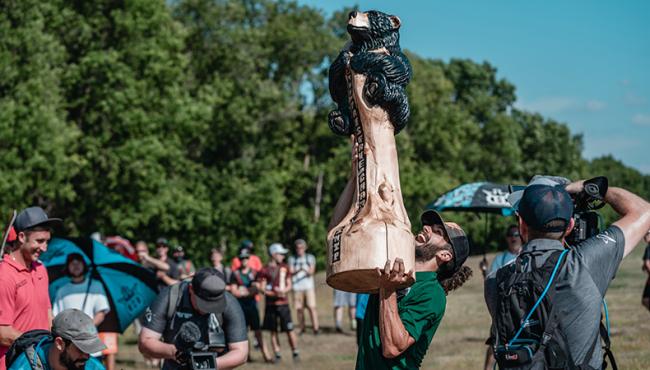 As he stood on the 18th green Sunday afternoon at the Preserve Championship with 25 feet between him and victory, it was fair to wonder where Nikko Locastro's head was at. Just one hole before, the Missouri native had made a last-second disc switch and laid up from 50 feet, and all day he'd been mired in the passionate, yet sometimes negative self-talk he's grown to be known for throughout his 15-year pro career.
While he's won 134 tournaments over that span, including a United States Disc Golf Championship, he hasn't taken home a title at a PDGA Elite Series event since 2011. So with nine years of weight on his shoulders and his inner demons coming to the surface, the eagle he needed to secure the victory would surely be accompanied by a swell of emotions and an explosive celebration, right?
Wrong. Instead, that clean connection to bring his weekend total to a 41-under par 153 featured only a fist pump and a huge sigh of relief.
Until someone actually told Locastro the result. 
"For the love of god," he said. "I didn't see the scores. Are you sure? Did I win that? "
Then the explosive celebration commenced.
It was a fitting end to a harrowing day for the 31-year-old, as he finally blocked out the noise so well that he didn't even know he was putting for the win. Instead, it was all about execution and playing to his best, and it paid off with a massive hand-carved bear statute, a jump in the greenside pond, and a $4,200 payday.
"It means everything to me," Locastro said. "You guys have no idea. All I do is think about this moment and how good it can feel. I was playing with the best players in the world today, shot for shot."
Simon Lizotte and Calvin Heimburg entered the final hole tied with Locastro but couldn't put themselves in position off the tee for the eagle, and the duo ended up tied for second place with 40-under par 152s. Emerson Keith used a stellar 16-under par finish Sunday to move up five places and into fourth with a 39-under par 153, notching his second straight top-five performance. A final-hole eagle also helped Drew Gibson jump into fifth place at 38-down. 
Paige Pierce saved her best for last, finishing off another dominant showing with a 1013-rated 10-under par 55 that brought her winning tally to a 29-under par 166. She crossed the four-digit rating threshold all three rounds at the Preserve, and in 15 rounds this season she has surpassed the 1000 mark eight times. The Texas native took home $1,600 for her weekend efforts, while Catrina Allen bounced back with a perfect putting effort to finish in second place at 16-down. Missy Gannon ended the three-day affair in third place at 14-under, while Sarah Hokom (-9) and Paige Shue (-8) rounded out the top five.
Locastro pulled out the win after carding only a single bogey on the weekend and logging a strong performance on the putting green: His 92% circle 1x success rate wasn't just fifth-best in the field; it also far outpaced his season totals from 2020 (77%), 2019 (78%), and 2018 (76%).
Still, it wasn't easy. Locastro missed a shorty to start the round and immediately cede a stroke to Heimburg. A slow stretch of pars through the middle of the front nine found him losing ground to Lizotte, as well, but a clean forehand park job on the 667-foot, par-4 11th started to shift his fortunes. The approach led to a run of six straight birdies that he capped off with a circle's edge connection on 16.
Looking to gain an advantage on 17, Locastro instead left his drive soft, and it hit some high foliage and settled in about 50 feet from the pin. As he deliberately set up his 50-foot death putt to save birdie and keep pace with Lizotte, he suddenly switched to a spin-putt layup and headed to the 18th tied.
There, Locastro took his fate into his own hands, capitalizing with one of 13 eagles the hole granted during the round. His, though, was the most important.
"I just kept believing in myself and I kept telling myself 'I'm gonna be there on the last hole and I'm gonna have a chance to win,'" Locastro said. "And that's the mindset I had from the very beginning.
"I wasn't even thinking about [scores], honest to god," he said. "All I could think about was putting the Frisbee in the basket and not letting any other thought enter my mind."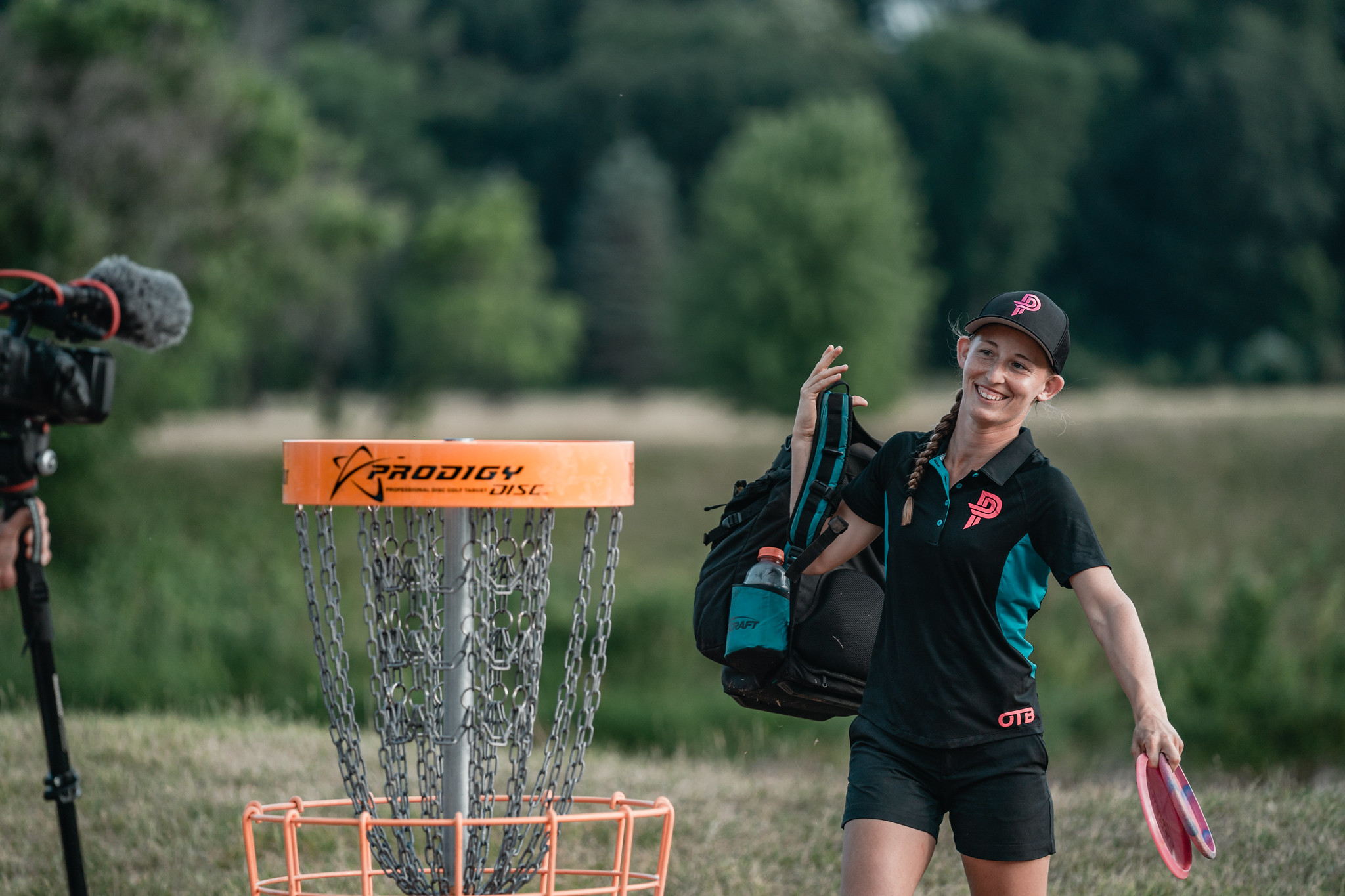 Pierce again showed why she is the class of the Open Women's division. Starting the round with an eight-shot lead over Gannon, the five-time PDGA World Champion opened with six consecutive birdies to all but ensure that the rest of the day turned into a race for second place. She connected several times from circle's edge and ended the competition leading the field in seven of nine UDisc statistical measures.
"It feels amazing," Pierce said. "The whole point of the game is to get the disc into the basket -- that's the best part. So it's been great to have a good putting weekend and just feel really confident on the green."
Pierce's average margin of victory in three wins this season is just over 10 strokes. And on the heels of back-to-back blowouts, she said she was happy to send a statement to anyone who questioned her one blemish this year: a 13th place finish at the Waco Annual Charity Open.
"I think that a lot of people thought that something was wrong with me after Waco, and I'm so sick of hearing that," she said. "I don't actually care what happened at Waco -- I've been playing super well all year long. I feel really confident in my discs and really supported, and I think that's the key to success."
The contrast in Allen and Gannon's battle for the runner-up slot signified a flip of the recent script: Gannon, the 2019 World Putting Champion who has been so solid on the green since the Dynamic Discs Open, faltered down the stretch with a 56% circle 1x putting performance Sunday; Allen, who has looked lost with a putter in her hand lately, had her first 100% circle 1x finish since round one of the 2019 Delaware Disc Golf Challenge, a span of 34 rounds.
After back-to-back weekends to restart the season, the Disc Golf Pro Tour moves to one of its Silver Series events with the Silver Cup in Manitowoc, Wisc., beginning Friday. The tour proper resumes on July 24 at Discraft's Great Lakes Open in Milford, Mich.
Comments
Whelp, I was hoping to watch the last round without knowing the results.