Early 'Fireworks' Help McMahon Snag Beaver State Fling Lead
Early 'Fireworks' Help McMahon Snag Beaver State Fling Lead
Paju slips four off the pace heading into Sunday's final
Sunday, June 9, 2019 - 10:45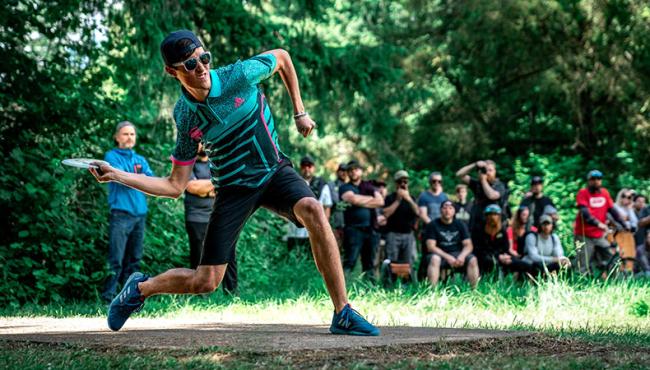 ESTACADA, Ore. -- Breathing room comes at a premium at the Beaver State Fling, where perennial playoffs are written into tournament lore. So when Eagle McMahon sensed an opportunity to pull away after Seppo Paju carded a double bogey to open play Saturday at Milo McIver State Park's West Course, the defending champion was ready to pounce.
"Right there, there was some fireworks going off, and I was like, 'Alright, this is my time to put my foot on the gas,'" McMahon said. "I can really get a roll going."
Paju stopped the bleeding, though, and McMahon's instant three-shot lead only materialized as a four-shot advantage by the end of round three. The 21-year-old Colorado pro's 10-under par 51 brought his 54-hole total to a 30-under par 153, while Paju's 26-under par 157 kept him in second place. A.J. Risley hung tough on the lead card and remains in third place with a 23-under par 160, while two-time BSF winner Ricky Wysocki's 10-under helped him jump onto the lead card with a 22-under par showing.
It was an inauspicious start for Paju, who said he felt like he was slightly out of position off the tee but still out of danger. He left his second shot on the 630-foot, road-lined opening hole, though, and it didn't have enough air to clear the curb. Add in a missed 30-footer, and it made for a day of catch-up.
"I was a little nervous for sure, and especially after that I just tried to stay calm, and it continued very good from there, though," Paju said. "I was just trying to tell myself that it's just a double bogey, that a lot of people are gonna be taking bogeys, and if I don't mess up too bad in the rest of the round it'll just be two bogeys and I'll be fine."
As much as the pressure might have been on Paju in that moment, McMahon said he was feeling his own jitters.
"I definitely did feel nervous because right away I thought, 'Wow, I birdied the first hole. I'm up three, put the foot on the gas baby, let's go,'" McMahon said. "But very rarely does it go like that...In that situation you have to cool yourself down and bring yourself back to the moment."
Both he and Paju settled in, with the latter recovering from the early mishap with three straight birdies. Paju's accuracy started to falter mid-round, though: First, he left an approach too long on hole 7's peninsula green and it sailed OB, but he connected on the circle's edge comebacker to save par. On hole 9, he overcooked his drive and it ended behind some trees on the right side of the fairway, but he executed a tremendous rainbow backhand out to recover for a tap-in birdie. He was in the rough again on 10 and 11, but again managed to escape without a bogey.
"Scramble game was good," Paju said. "I like being - obviously I would like being on the fairway, but I kind of enjoy being in tough spots because I feel like I have pretty good selection of shots. I knew that in each position I was able to get to the basket, so it gave me confidence."
And he displayed some of that bravado on the green, too, particularly on hole 12. His drive ended up in the left-side shule on the 433-foot par 3, and he walked off the 10-meter string in the hopes he was outside the circle. He wasn't, though, so he couldn't fall forward to propel his putt to the basket. Instead, he played the slight headwind, put the nose up, and crashed the chains for a much-needed birdie.
"It's not a typical putt for me," Paju said. "I'm not a person who makes those putts all the time, so definitely a bonus for me."
McMahon, meanwhile, saved his bonus strokes for later in the round. He was rarely flashy on the day, instead choosing precise accuracy with turnover drives on the way to a 74% fairway hit rate. He turned it on with a tap-in 3 on the 700-foot 13th, then followed with a 40-foot connection for deuce on 14. A 15-footer on 15 made for a turkey, and the lead was all but secure.
"All holes that are a little bit on the tougher side, but on this course if you're able to birdie on the end that's what really sets you up for a good round," McMahon said. "I'm happy with how my round went and a four-stroke lead going into tomorrow, [but] it's far from over."
Jordan Castro headlines the chase card, as he's tied for fourth place with Wysocki at 22-under. James Conrad's 1077-rated 12-under par was good for the hot round, and the performance moved him up to fifth place in front of his parents, who were in town from Virginia.
"To have them following is always a special feeling, and I think that helped me shoot well today," Conrad said.
Joel Freeman, Nate Perkins, and Calvin Heimburg are all tied for seventh place 10 shots behind McMahon, and Simon Lizotte rounds out the top 10 at 19-under for the weekend.