'Crazy Stuff': Heimburg, Locastro Roll On Preserve's Moving Day
'Crazy Stuff': Heimburg, Locastro Roll On Preserve's Moving Day
Pierce gains separation; Widboom snags an ace
Sunday, July 5, 2020 - 01:36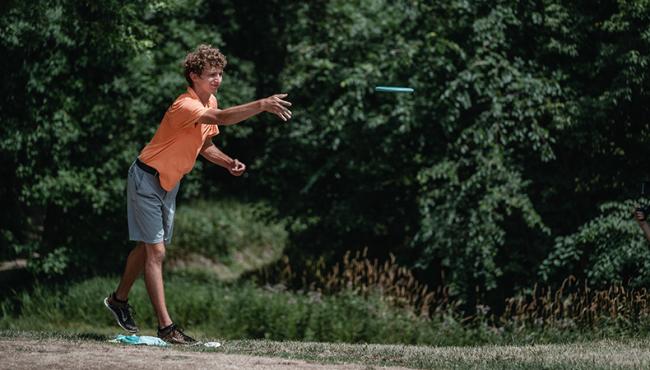 With a laser-like drive, a skip off the hard-pack green, and an oh-so-friendly roll, Calvin Heimburg was left with a tap-in eagle to close out his second round at the Preserve Championship Saturday afternoon.
If it all sounds too easy, just look at the Florida native's scorecard as further proof that it was: an eye-popping 17-under par 47 moved him up two slots on the leaderboard and into a share of first place on Independence Day. He's tied at 30-under par with 2009 United States Disc Golf Champion Nikko Locastro, who made his own simple work of the Airborn Disc Golf Preserve, at one point carding a dozen consecutive birdies en route to a second day of 15-under par golf.
Eagle McMahon, meanwhile, matched Locastro's round score to climb up nine places and into third place, a spot he shares with fellow Crush Boy Simon Lizotte at 26-under par overall. Minnesota local Ryan Sheldon continued to shine with a 12-under par that has him knotted up with James Conrad for fifth place at 25-down.
While there are still 18 holes to play, Paige Pierce has again put herself in a comfortable position heading into Sunday's final after a 9-under par performance that brought her two-day total to a 19-under par 111. The five-time PDGA World Champion enjoys an eight-throw margin over Missy Gannon (-11) and is nine up on Catrina Allen (-10). After showing early promise on moving day with a run of five straight birdies to open play, Paige Shue slowed down on the back nine but still climbed onto the final round lead card after her 7-under par took her to 9-under overall.
Heimburg's showing clocked in with a 1087 round rating and featured another strong performance on the putting green as he casually drained four shots from circle's edge. He's also leading the 106-player MPO field in parked shots (42%) and circle 1 in regulation (78%).
Still, he cited the putter as most important. "I wasn't parking everything," he said. "...It was good that the putt was feeling good today."
As much as this Preserve course favors the bombers at first blush, it has, indeed, been those who have been able to convert on the green who've seen the most success. Locastro, for example, is fourth in the field in circle 1x putting (94%) and second in circle 2 connections (71%), jamming five so far this weekend.
Plus, the scoring has been frenzied, harkening to an early-season staple like the Memorial Championship as far the "birdie or die" mentality that's needed to make up any ground.
"I just know with a course like this you better birdie, be birdieing more than anything else," McMahon said. "...Really all I can hope for is to play my best and see where that puts me."
"Crazy stuff," Lizotte said. "17 [under] is gonna be hard to beat, and I think I'll have to shoot a 19 or 20-under tomorrow to have a chance."
Still, the German star didn't say it couldn't happen: "It's possible."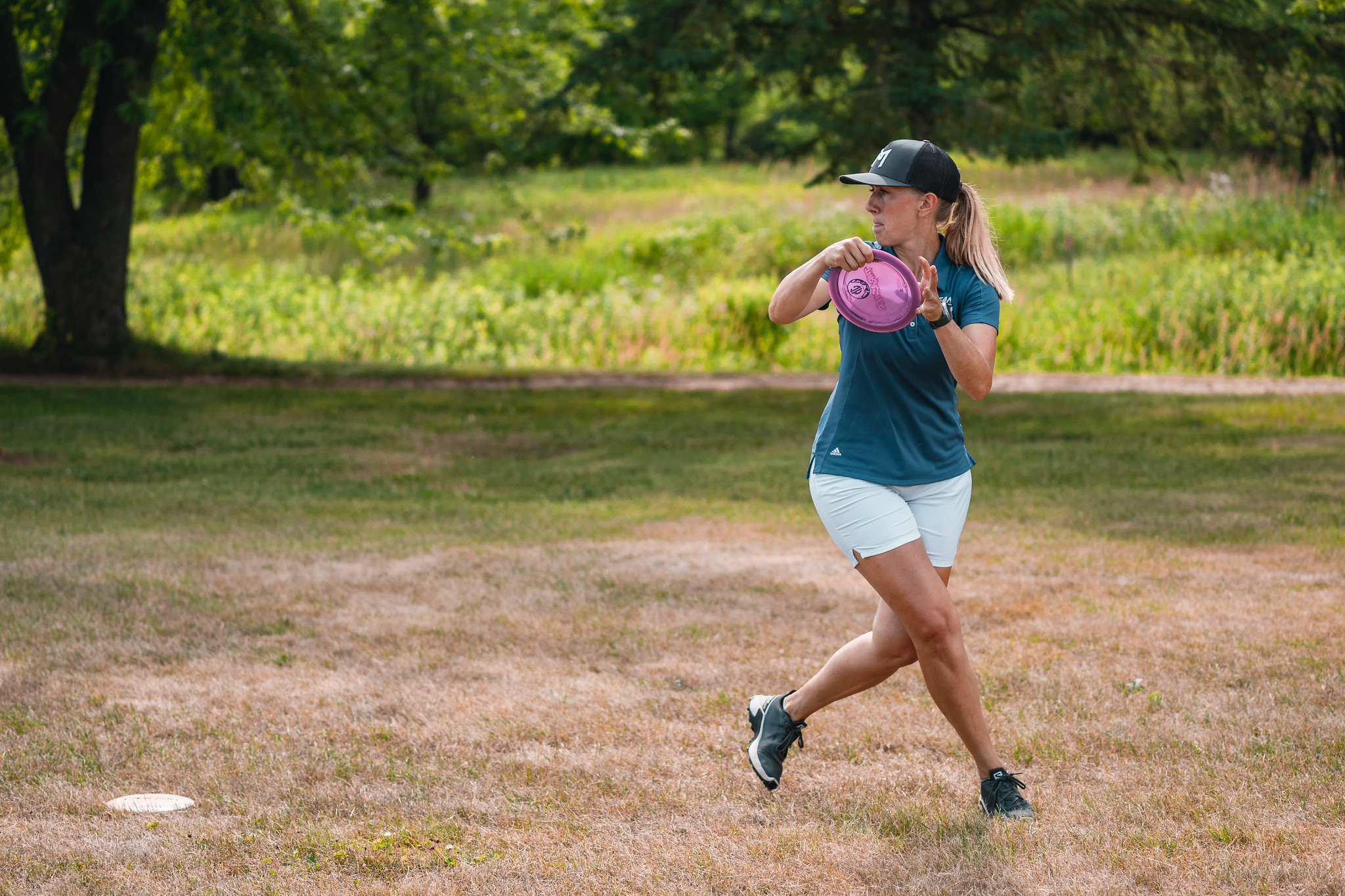 While Lizotte and McMahon need to chase down four shots, it's a taller order in FPO. Pierce continued her dominant play, only falling one shot off her round one pace during a bogey-free performance. She has now crested the four-digit round rating threshold eight times in 2020, as her 1004 on Saturday puts her average for the weekend at 1007.
She canned a 70-foot jumper for birdie on the par-3 17th and added three more from roughly 50 feet. Though she admitted she'd like to be closer to the pin to keep things "stress-free," she also thrives from beyond the arc.
"Circle 2 is where I find the most happiness," Pierce said. "I feel like when I make those long putts it's really just tunnel vision...When you watch it go in you have those moments to yourself to go do whatever, and I just hype myself up on the way to the basket and those are the moments that I play for."
Gannon attributed her slip to a loss in accuracy off the tee, and the stats bear it out: After landing in circle 1 in regulation on 50% of her shots during round one, that number slumped to 22% on Saturday.
"My drives were just a little off today," Gannon said. "Yesterday I was putting them pretty close, inside circle 1 a lot. Today it was inside circle 2, which is still comfortable for putting but I don't quite count them as much."
As Gannon might need some fireworks to catch Pierce on Sunday, Ellen Widboom brought her own Fourth of July celebration to Minnesota with an ace on the 269-foot 17th that helped her climb into a tie for eighth place. Other strong performers included Jordan Castro, who moved up seven places and into a tie for seventh place after a 14-under par 50, and veterans Cale Leiviska and Philo Brathwaite, who are tied for 12th after moving up 12 slots in the standings.
Sunday's final finds competitors once more looking to carve up the Preserve, with live coverage on the Disc Golf Network beginning at 1:35 p.m. CT. The round will be simulcast for free on the Disc Golf Pro Tour's YouTube channel, as well.