Flat, mostly open, with mesquite trees. A creek comes into play on a few holes and several holes have OB potential. Each hole (except #16) has 2 pin positions. Holes range from 218' to 570'. Playground and a large pavilion.
Street Address:
T and P Lane & Midway St.
United States
First Tee Coordinates:
POINT (-99.712583 32.438896)
Directions:
I-20 to Cross Plains exit, south to East South 11th, right 0.5 mile to T & P Lane, park on left, parking at pavilion.
Course Photo(s):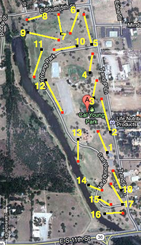 Computed coordinates:
POINT (-99.712583 32.438896)